We all need to view documents in our smartphone. These documents may be simple word documents, excel files, presentations or pdf. To view them we need to have some office tool install in our smartphone and there are a number of apps available in the Android app market but we cannot download separate apps for viewing our docs file, separate app for pdf, for ppt etc.
We wish to have such an app that can help us view all the documents, such all in one good office suits are less. We are presenting a list of Top 5 office suits for Android Devices. These can not only help you in opening your documents but can also organize your files in such a way that no matter where in your device your documents are scattered, you can access them from one place.
Let us have a look in each of them.
Quick Office is one of the most popular office suit for Android. The best thing is that it is available for free. With this app you can create and edit your office documents, presentations or spreadsheets.
If you sign in with your Google account then you can sync your Quick office with Google drive and save your work there. You can also access documents from your Google Drive.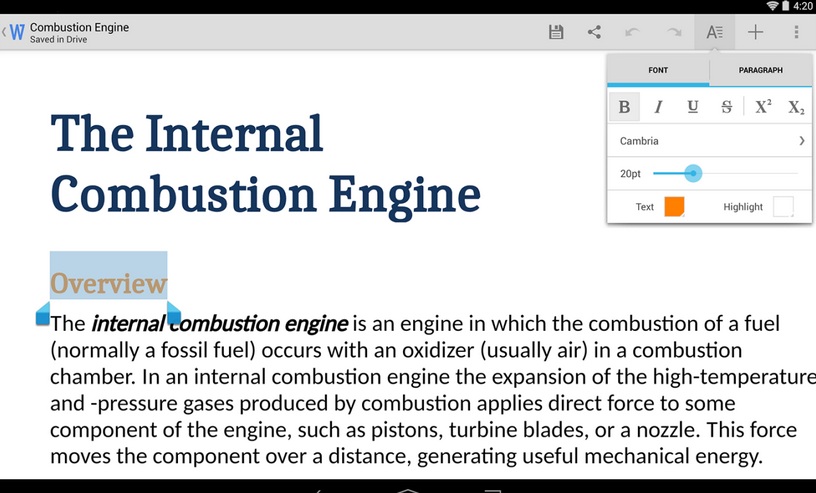 Google Docs provides you the facility to make your data mobile. Save any file in the Google Drive and access it from anywhere. With the Google Drive Android app you can access your photos, documents, presentations, videos or other files.
You can save up to 15GB of data in your Google Drive for free. Make your files available offline so that you can view them without needing internet connection. You can also view documents that others have shared with you on Google Drive. Use Google Cloud Print to print your documents in one go.
See Full Story on www.techgyd.com