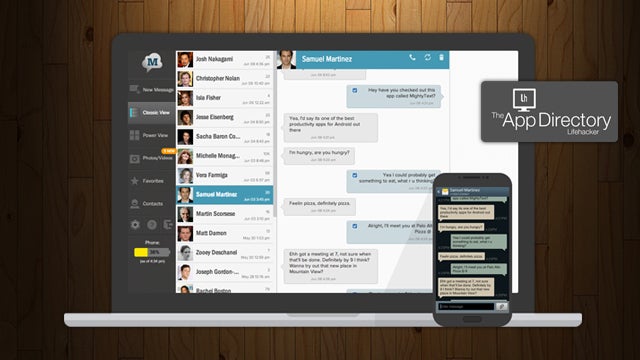 You don't switch away from your PC to your smartphone to reply to an email or an instant message, so why should a simple SMS message be any different? Thankfully, if you have an Android device, you can continue using your PC (and its full-size spacious keyboard) to read and send text messages. Our choice for this task: MightyText.
Features
Syncs SMS and MMS on Android phone and Web
Stores messages up to 6 months for free (forever for Pro users)
Syncs contacts from phone
Syncs photos and videos from your phone's gallery, with editing and filters
Add media from preloaded gallery of popular GIFs, videos, memes, emojis and quotes
Favorite texts
Default list view, grid-based power view for multiple conversations
Battery indicator
Notifications for incoming calls
Dial a number from the web (needs phone to talk)
Ring your phone to find it
Chrome extension to send messages from Gmail and Facebook chat windows
Schedule text messages to send later (pro only)
Save message templates (pro only)
Create contact lists for easy group messages (pro only)
Send messages to 25 people at a time (pro only)
Add signatures (pro only)
Block certain numbers from syncing with MightyText (pro only)
11 additional themes (pro only)
Where It Excels
Of all the different PC text messaging solutions for Android, MightyText is the easiest to use. Install it on your Android, sign into Gmail, fire up the webapp and you are ready to go. The app hooks you with the "it just works" charm and then unloads some handy extra features to keep you happy. The big seller is how effortlessly it syncs your text messages, whether you are connected on Wi-Fi or using a data plan. The Power View makes it easy to carry out multiple text conversations simultaneously. Plus, if you use the Chrome extension, it will give you pop-ups when you are in your Gmail or Facebook tabs, much like how an incoming chat message looks in those windows. And you can compose new messages too. The Pro version ($39.99/year or $4.99/month) takes it up a notch with the ability to schedule messages and save templates—both useful features that are worth the money if you text a lot.
See Full Story on lifehacker.com